Everyone has lost their minds over Oscar Isaac. Redditor rock_callahan best summarized it when he posted to r/StarWars
In case you're confused about why everyone is drooling over the Resistance's best pilot, here's why:
1. The best part of Ex Machina (an already-great movie) was Oscar's dance scene. In case you missed it...
Liked that? Here's the full version:
2. He's a total sweetheart. Like that time he posed with Gary, Carrie Fisher's internet-famous dog
Garr & Oscar join the mile high club en route to UKpic.twitter.com/AjKTC2WeCR

-- Carrie Fisher (@carrieffisher) December 15, 2015
3. Or when he was very kind to his Star Wars co-star, Lupita Nyong'o, during a Vanity Fair interview
When he was asked, "Where do you see yourself after Star Wars is over?" he responded: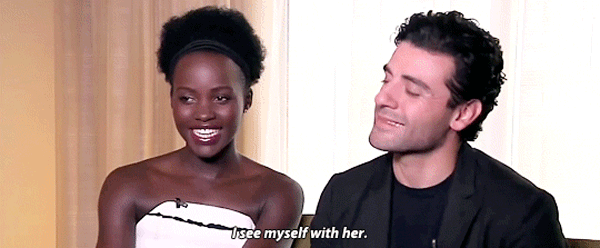 via buffybarnes
 4. He offered to give me his phone number. Okay, not really. He offered to give his phone number to anyone who wanted to know Star Wars spoilers.
You can call Oscar Isaac to discuss #StarWars spoilers https://t.co/fZq2qJT0Pz

-- Variety (@Variety) January 11, 2016
5. He won a Golden Globe, and it was the only part of the Golden Globes anyone cared about
Next year, Oscar Isaac will be the beneficiary of the Globes' new category, "Achievements in Being Oscar Isaac."

-- Sady Doyle (@sadydoyle) January 11, 2016
6. Even Harrison Ford was in awe of Oscar Isaac
Find someone who looks at you the way Harrison Ford looks at Oscar Isaac at the #GoldenGlobespic.twitter.com/oX7Hco6oIW

-- E! Online (@eonline) January 11, 2016
7. He used his Golden Globe win to talk about the need for more diversity in Hollywood movies
via beneffleck